Conquering the highest mountain in Great Britain: A journey of friendship and inspiration.
Cameron Mitchell joined Maersk H2S in April 2020 and has represented Maersk H2S in several operations since joining. In this article, Cameron shares his story of climbing Ben Nevis, the highest mountain in the UK, with someone he met during a job posting.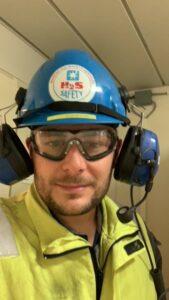 Ben Nevis, known in Scottish Gaelic as Beinn Nibheis, is the highest peak on the island of Great Britain, standing at 4,413 feet (1,345 meters) above sea level. It is located at the western end of the Grampian Mountains in the Highland region of Lochaber, close to the town of Fort William.
"It made me realize that with the right mindset and preparation, I can conquer any obstacle that comes my way, which is the approach I have to my job".
Read the full article here: Our People – Cameron